It's that time of year again. Yes, fall – otherwise known as Pumpkin Spice season.
As soon as the calendar turns to September, you can't make it down the aisle of the grocery store without encountering pumpkin spice something: pumpkin spice cereals, pumpkin spice tea, pumpkin spice yogurt… pretzels, ice cream, cookies, even air sprays and cough drops!
It all started 20 years ago
This fall food craving dates back to 2003 – the first year Starbucks offered its iconic Pumpkin Spice Latte (or "PSL," as it's now called). Since the drink was a limited-time seasonal offering, people got excited about it and looked forward to its return each fall.
Before long, the pumpkin spice flavor and scent spread into other products, and each year it seems to grow more popular. In fact, Ad Age reports that spending on pumpkin spice-flavored products has reached $500 million annually in the U.S.
Google Trends recently released a map that shows the most popular pumpkin spice foods in every state, based on the number of Google search results. It's worth noting that "pumpkin pie" and "pumpkin spice latte" aren't on the map, but plenty of other interesting foods are!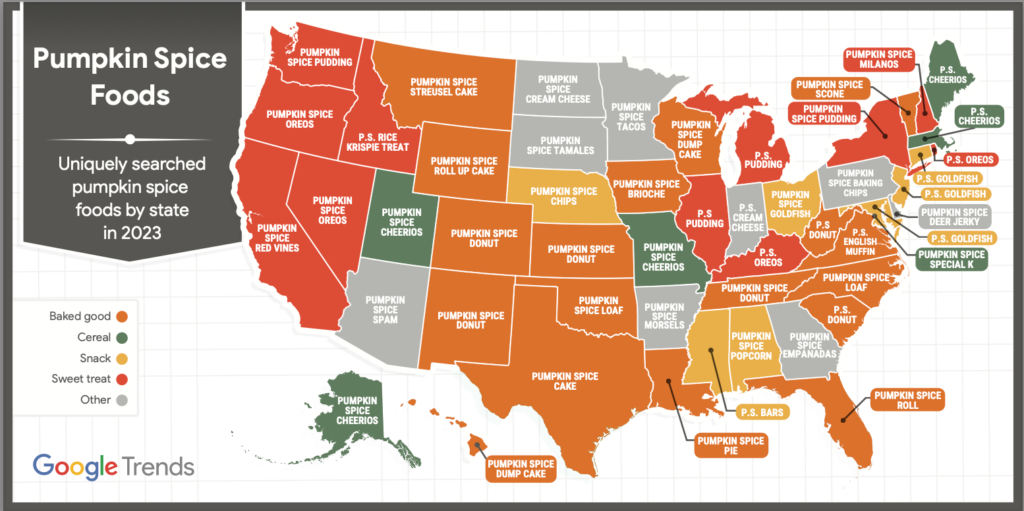 The psychology of the flavor craze
Psychologists confirm that there is actually some science behind this taste craze. According to a New York Post article, "We love to be reminded of fall and the warm feelings of family, home and nostalgia the season brings — and our brains associate those warm feelings with this particular flavor, psychologists and researchers say."
The article quotes a psychologist who says: "The flavor is just so closely tied to the arrival of fall and the nostalgic, wholesome vibes of both family and the leaves changing."
Inspired by pumpkin pie
Let's be honest… the original is the best, and in this case, pumpkin pie is the original pumpkin spice. In addition to pumpkin, it's the spices – usually cinnamon, ginger, nutmeg, and allspice – that give pumpkin pie its unique flavor profile.
Our Tippin's Pumpkin Pie uses a special blend of spices combined with pumpkin puree that is aged for two years to intensify the pumpkin flavor. We bake our pies with care to create the perfect pumpkin spice product… pumpkin pie.
We hope that your fall is filled with the tastes and smells of pumpkin spice – in its purest, original Tippin's pie form – and that the memories you create over our pies stay with you long past the season.
Use our Pie Finder to find Tippin's pies in your neighborhood.
Happy Fall!